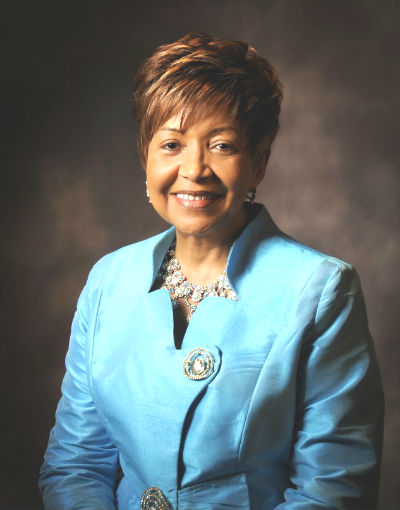 Rev. Doris Hardy eminently serves in the ministry with a wide background of experience. Rev. Doris Hardy assists her husband in the pastorate of Cathedral of Faith C.O.G.I.C. as Administrative Assistant. She supervises the Director of Women's Ministry and she is the Church School teacher of the Discipleship Class for new members. She has served in many capacities in the church since the infancy of their ministry: choir director, Superintendent of Sunday School Department, Pastor's aid worker, youth leader, teacher and intercessor. She learned to fill the gap wherever needed. She has traveled with her husband overseas to conduct a crusade in Nigeria, Africa. Rev. Hardy is an inspirational, evangelistic speaker, and conducts seminars.
Rev. Hardy has an anointed ministry that inspires growth and development amongst the body of Christ. She founded the Cathedral of Faith Book Store and served as Principal of the Cathedral of Faith Christian School for three years. Presently, she is Program Administrator of the Cathedral of Faith Christian School.
Bishop G. Wesley Hardy, Sr. and Rev. Doris Hardy have four children: Pastor Giles Wesley Hardy, Jr., Missionary Glenda Griffin, Missionary Crystal Williams, and Mrs. Pamela Reed. They have three wonderful sons-in-law, Elder Kermit Griffin (Assistant Pastor of Cathedral of Faith) Lance Williams and Mr. Marcus Reed; one daughter-in-law, Mrs. Veronica Hardy. Presently, there are ten prized grand children.
Rev. Hardy has dedicated her life to the work of the Lord. She loves the Lord dearly desiring to be an example to men, women, youth and young adults.
Email Rev. Doris Hardy for engagements at Email.
You may also follow the First Lady on Facebook.
Our Mission
To bring people to Jesus Christ and His Church and disciple them in the faith.
Streaming
Join us every Sunday morning via the web, whether at home or away on vacation.
Contact Us
Weekend Service Times:
Sunday @ 8:30 am & 11:30am
2020 Portlock Road
Chesapeake, VA 23324
Ph: 757.545.0953
Fax: 757.545.4751
Email:
cof@cofcogic.com
Office Hours:
Monday-Wednesday: 8 AM – 5 PM
Thursday: Closed
Friday: 8 am – 5 pm